Digital marketing is simply the marketing of your business on the internet. Without it, your business is almost nonexistent to people looking for it online. Our goal at Katy Digital Marketing is to make sure our clients are dominating their competitors in the online battlefield. Why do we say "battlefield?" Because that is exactly what the internet is for businesses. You can no longer throw up a website and expect to find you. You now have to compete with millions and millions of websites to obtain those top spots in the search engine results pages (SERPs). So how do you do it?
A Comprehensive SEO Strategy
At Katy Digital Marketing we offer a list of services a la carte, but we know the most effective way market your business online is to use a combination of services and build a comprehensive SEO and digital marketing strategy. Our signature strategy is a combination of 3 things: Organic Search, Local Search, and Paid Search. We have seen this strategy work well for our clients and we will always recommend it to new ones.
Our Plan In Detail: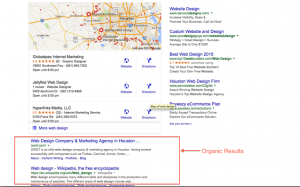 1. Organic Search Engine Optimization (SEO)
Organic search engine optimization is the optimization of your actual web page in order to drive more traffic through the regular Google search results and NOT the paid results. This is done through creating new fresh content on a regular basis, along with optimizing the individual pages on your website to rank for specific keywords.
Included in plan:
4 optimized topical blog articles written per month
Up to 10 website pages optimized per month
Blog articles posted to 3 different social media accounts
Link building campaigns
---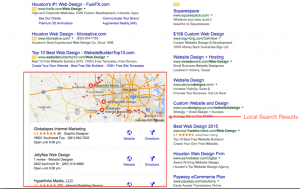 2. Local Search Optimization
Local search is the optimization of your various directory listings across the internet in order to drive traffic to your website and/or receive phone calls. This is accomplished by making sure all the listings contain consistent information (address, phone number, etc.).
Included in plan:
Creation of directory listings
Editing of directory listings to contain consistent information
Adding of content to fill Google Maps listing and other listings
---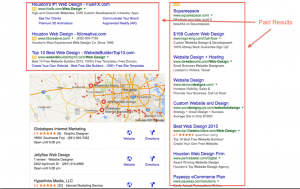 3. Paid Search Optimization (SEM)
The final type of optimization in our comprehensive digital marketing plan is management of your Google AdWords aka Paid search. We will work together to determine your proper advertising budget and from there we will optimize your AdWords account to perform the best it possibly can. We can also add on other forms of pay-per-click advertising such as Facebook Ads, Twitter Ads, etc. But we can discuss what type of ads will be most beneficial for your specific category when we initially meet to discuss your digital marketing plan.
Included in plan:
Daily management of Google AdWords account
Market research to determine best keywords for your budget
*Social media ads management
---
4. New Web Design
The main focal point of all your digital marketing efforts is your website. If your website is not set up in a way to best convert and attract leads then a lot of our marketing efforts will fall flat on their face. Because of this, a brand new web design is part of every Katy Digital Marketing comprehensive plan. You can see our web design portfolio here.
Included in plan:
Responsive web design
SEO friendly backend and front end
Powered by WordPress for endless flexibility and functionality
---
5. Monthly SEO Reporting
The great thing about online advertising is that YOU CAN TRACK IT! We will be able to analyze the strategies we are implementing and constantly adjust them to perform to their maximum potential. This will in turn bring your business the highly sought after online leads. We will also see YOU a monthly report on how your strategies are performing along with the amount of conversions(leads) we are receiving.
Included in plan:
Summary of work performed
Strategy outlook for future
Google Analytics Performance
Google Search Console Performance
Google My Business Performance
Google AdWords Reporting
See Comprehensive Plan Pricing
*-Social media ads management are an add-on and not part of the comprehensive plan. You can see pricing on the pricing page.